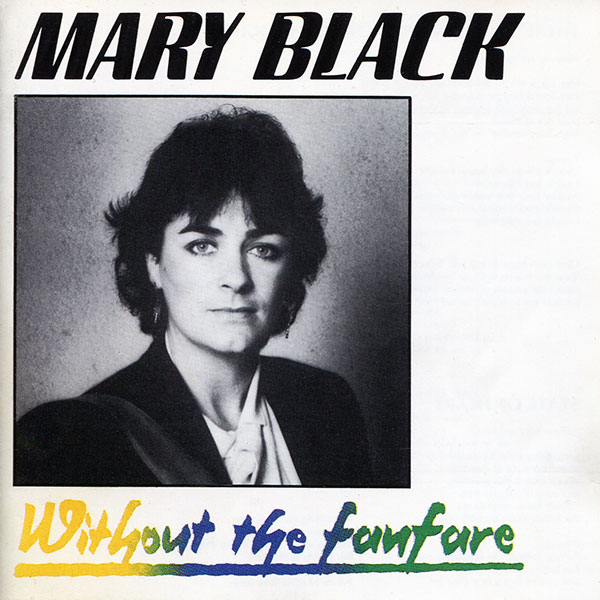 1985
Releases
CD
Dara Records
DARACD 016
Reviews
Review of Without The Fanfare by Malcolm Steward
This was the album that heralded Mary's transition from singing purely traditional and roots-based songs to tackling a broader range of material. A variety of fresh influences started to colour the songs she chose and the way she performed them. It was also the first time that she recorded with what she now calls her big sound, the full electric-acoustic band that backs her on tour and in the studio.
The album opens with There's A Train That Leaves Tonight an atmospheric slow burner whose skeletal arrangement leaves her voice plenty of room in which to weave and soar. Declan Sinnott's subtle guitar chops and Carl Geraghty's alto sax add a soulful touch to this moving ballad. State Of Heart, which follows, keeps the tempo in low gear but sees descreet shades of Mary's jazz and pop sensibilities adding colourful touches to the vocal line. Nightime also starts off slowly but the rhythm soon shifts up a notch to reflect the lyric's talk of dancing girls and the light headedness that accompanies carefree falling in love. It's an unashamedly light hearted celebration of romance that majors on fun and leaves profundity taking a rain check.
The Crow On The Cradle adopts a more serious stance and drifts back into a traditional musical vein, its haunting tempo and delicate voice and guitar arrangement almost disguising the song's emotional power. Donagh Long's Greatest Dream uncoils slowly into a chorus that gives Mary's voice the change to deliver the killer punch that the song's menacing bass line threatens from the outset is waiting to appear.
The imagery of The Water Is Wide acts as a literal introduction to one of the most dramatic and powerful songs that Mary's live audiences will witness, Ellis Island. This is the story of Irish emigrants leaving their homeland in search of work in America, knowing that they'll never see Ireland or their loved ones again. On disc this song is heart-stopping, beautiful and disturbing, but live it's positively discomforting. Another singer might easily destroy its integrity and intensity with sentiment but Mary's delivery is steeped in genuine emotion and pain. Once you've heard her sing this song the memory of the performance and the anguish of the tale will never leave you.
The album closes with Going Gone. The simplicity of the arrangements that have preceded this number gives way to some subtle sophistication, with Brian Calnan's percussion becoming increasingly intricate and off beat behind Mary's double-tracked vocals. It gives a timely reminder that she and the band are moving forward into a more diverse brand of music making.
Malcolm Steward is an award-winning British hi-fi journalist, music critic and self-professed champion of home-grown musical talent. He finds it ironic that he first heard a Mary Black disc while at a convention in Chicago.