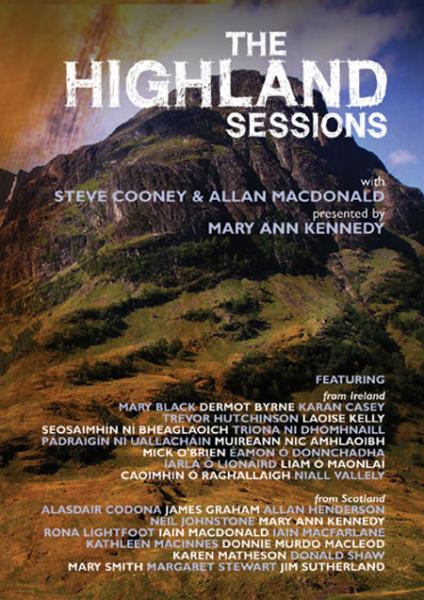 2010
Remarks
From the Transatlantic Sessions producers, the complete BBC Highland Sessions series on DVD, featuring 32 Scottish and Irish artists.
Traditional music and song at its very best, with a host of top names and superbly filmed.
In its original Gaelic-presented version Comhdhail Cholm Cille (Columba Sessions), The Highland Sessions appeared after the first two series of Transatlantic Sessions, in which the same director Mike Alexander had developed his uniquely intimate and award-winning approach to recording music for television.
The Highland Sessions differed from these predecessors in two important respects - there was no North American element, and the singing languages were almost exclusively Irish and Scottish Gaelic.
Six half-hour programmes presented by Mary Ann Kennedy, with music director Steve Cooney and music producer Allan MacDonald.
Featured artists from Ireland: Mary Black, Dermot Byrne, Karan Casey, Steve Cooney, Trevor Hutchinson, Laoise Kelly, Seosaimhín Ní Bheaglaoich, Triona Ni Dhomhnaill, Pádraigín Ní Uallacháin, Muireann Nic Amhlaoibh, Mick O'Brien, Éamon Ó Donnchadha, Iarla Ó Lionáird, Liam Ó Maonlái, Caoimhin Ó Raghallaigh and Niall Vallely.
Featured artists from Scotland: Alasdair Codona, James Graham, Allan Henderson, Neil Johnstone, Mary Ann Kennedy, Rona Lightfoot, Allan MacDonald, Iain MacDonald, Iain MacFarlane, Kathleen MacInnes, Donnie Murdo MacLeod, Karen Matheson, Donald Shaw, Mary Smith, Margaret Stewart and Jim Sutherland.