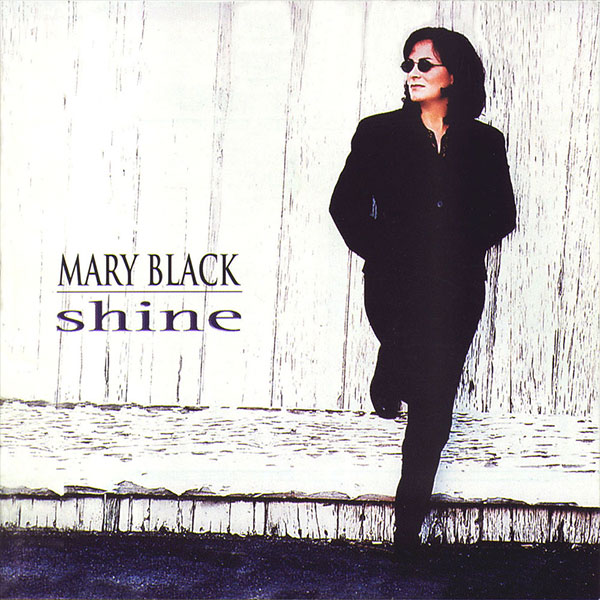 1997
Reviews
Review of Shine - Milwaukee Journal Sentinel
If I were any further under the spell of Mary Black, I'd be sacrificing chickens in front of the CD player.
But even acknowledging my regrettable descent into slobbering fandom, I still feel comfortable picking Black's "Shine" as my favorite disc for 1997.
"Shine" is a top contender on several fronts. The first is songwriting. Black is not a writer herself, but she has superb taste in material, which is one of the best and most easily overlooked assets a singer can posess. If there is one thing that listening to music for living has taught me, it's that there is no substitute for good songs. Even the greatest talent is going to be eventually defeated by a steady diet of weak material.
Black has the confidence and maturity not to worry about writing herself and instead relies on proven pros like Richard Thompson ("I Misunderstood"), Tonio K. ("Nobody Lives Without Love") and David Gray ("Trespass Shoes").
Black's basic turf is heart songs, which, of course, is the most heavily trod and often cliched playground a singer can stake out. So what makes her special? For starters, her instruments, a husky Irish voice with an undercurrent of melancholy. Sinead O'Connor has that same quality of marrow-deep sorrow, but in her case it's undercut by an air of childishness and naivete.
Black, in contrast, is very adult, poised and self-contained. If there's an ache in her heart, it's balanced by a hard-won wisdom and untained by illusion. This is a passionate, emotionally seasoned woman, keenly aware and warmly sensual.
Add to that, tastefully spare production by Grammy winner Larry Klein (Joni Mitchell) and you've got the ingredients for a superb adult pop/rock album.
I haven't nearly exhausted my stock of hosannas for Mary Black, but space constraints demand we get on to some of the other discs that brightened the year.
Following is my list of the year's best:
1. "Shine" by Mary Black on Curb Records.
2. "The Songs of Jimmie Rodgers" by various artists on Egyptian/Columbia. Tribute albums tend to be a mixed bag, but few bags can boost a lineup like Bob Dylan, Steve Earle, Van Morrison, Mary Chapin Carpenter, Dwight Yoakam, Aaron Neville, Bono, Dickey Betts, John Mellencamp and Willie Nelson. Rodgers is often cited as the Father of Country Music, which would certainly be honor enough, but what is more impressive is how valid these songs still feel nearly 80 years later. For instance, "In the Jailhouse Now" fits Steve Earle as snugly as a fresh set of cuffs.
3. "Little Head" by John Hiatt on Capitol. There's a lot of things to like about John Hiatt, not the least of which is that he's still sassy after all these years. "Little Head" is 10 mini gems, wise and funny on such relevant topics as the cooling of middle-age passion and your basic male hormonal craziness.
4. "The Colour Of Love" by Ronnie Earl and the Broadcasters on Verve. Earl plays in a sort of West Coast blues style, closer to Charles Brown than Muddy Waters, with more than a hint of swing. Guests like Gregg Allman lend some added punch as well. Very tight outfit.
5. "Songs From The Capeman" by Paul Simon on Warner Brothers. In some ways this reminds me of "West Side Story" with more street smarts and less sentimentality. An altogether new kind of achievement for Simon, "The Capeman" uses '50s doo wop to weave the true story of teenage Puerto Rican who went to prison in the '50s for a double gang slaying and, through decades of incarceration, evolved into an entirely different creature altogether.
6. "Postcards From Along the Way" by The Delevantes on Capitol. Fans of the BoDeans might want to check out The Delevantes, who are the country roots rockers of choice for 1997. I'm certainly reminded of the Everlys, but with a little more imagination on the songwriting end. The list of topics up for dicussion here includes pappy's 1970 Coupe De Ville and an old timer in New Jersey who had a bit part in "On The Waterfront".
7. "I'm Not Following You" by Edwyn Collins on Setanta/Epic. Collins is a little bit rock, a little bit pop and little bit lounge, filtered through pipes that sometimes suggest David Bowie. It probably really has to be heard to be assimilated, but there's something very seductive about the tunes.
8. "Love Travels" by Kathy Mattea on Mercury. Mattea shares many of the same virtues of Mary Black: a highly discriminating ear for material wedded to a strong adult sensibility. Mattea characteristically straddles the lines of country and folk but my favourite tune on this collection is actually a hard-kicking hot rod tune sung from a woman's perspective, "455 Rocket". Might be the best car tune I've heard since Neil Young's "Long May You Run".
9. "The Healing Game" by Van Morrison on Polydor. Two of my favourite musical traditions: Irish balladry and American sould are indelibly entwined in the moody genius of Van Morrison. It's been a while since Morrison dug into his R&B roots this deeply, but "The Healing Game" is worth the wait. The title track really is touched with a kind of magic mojo that lifts hearts and brightens spirits.
10. "Train Kept A-Rollin'" by Paul Burlison on Sweetfish. Burlison is an authentic rock pioneer, the lead guitarist for Johnny and Dorsey Burnette's Rock 'n' Roll Trio. This is just a classic rave-up with top flight hired hands like Kim Wilson, Mavis Staples, Levon Helm and Los Lobos'David Hildago. It's been 40 years, but the train's still pounding like a Tyson uppercut.
Some discs that just missed: The Bottle Rockers - "24 Hours a Day" on Atlantic; John Lee Hooker - "Don't Look Back" on Pointblank; Maura O'Connell - "Wandering Home" on Ryko; Kim Richey - "Bitter Sweet" on Mercury; James McMurtry - "It Had To Happen" on Sugar Tree; Mike Oldfield - "Voyager" on Reprise; Bob Dylan - "Time Out of Mind" on Columbia; and Roomful of Blues - "Under One Roof" on Bullseye Blues.
About half the new titles that get released are actually reissues of older music. Following are some choices for the year's best reissues: The Replacements - "All Or Nothing" on Reprise; Sonny Boy Willamson - "His Best" on MCA; "The Essential Charlie Rich" on Epic/Legacy; soundtrack to "Casablanca"on Rhino; "The Very Best of Frank Sinatra" on Reprise; The Nylons - "Perfect Fit" on Windham Hill; Ray Charles - "The Genius Hits the Road" on Rhino; Etta James - "Her Best" on MCA; and various artists - "Kansas City Blues" on Capitol Blues.